Leading Web Design Agency
Create Stunning Custom Website Design That Convert
Welcome to epoint Web Design Agency!
Addressing the Complexities that 65% of SMEs Face with Online Advertising
We are a team of experienced web designers and developers dedicated to creating visually stunning and highly functional websites for businesses of all sizes. Our goal is to help our clients succeed by providing them with a powerful online presence that makes it easy for their customers to find them, engage with them and ultimately do business with them.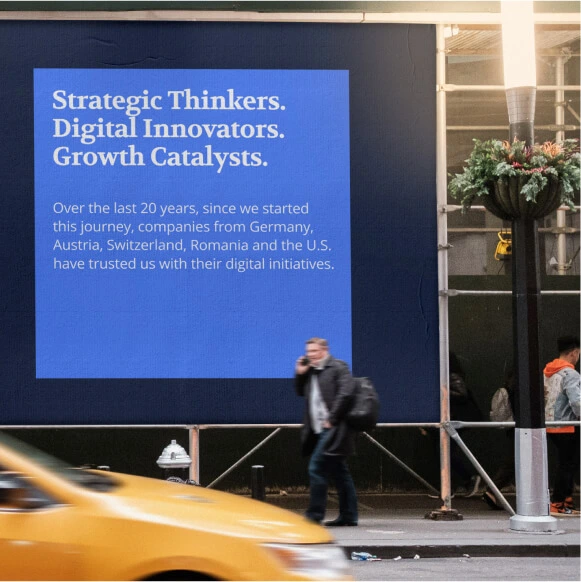 At Epoint Web Design Agency, we understand that a website is not just a collection of pages and images, but rather a vital tool for your business. That's why we work closely with our clients to understand their unique needs and goals, and then use that knowledge to create a website that is tailored to their specific audience and market.
Our web design process starts with a thorough consultation where we learn about your business, your target audience, and your goals for your website. We then use this information to create a custom design that is both visually appealing and easy to navigate. Our team of developers then bring this design to life, coding it in a way that is both efficient and optimised for search engines.
We believe that a website should be more than just a pretty face, that's why we make sure that all our websites are built with the latest web technologies and are mobile responsive, ensuring that your website is accessible to all devices. We also provide ongoing maintenance and support, so you can be sure that your website stays up-to-date and running smoothly.
Our team of developers make sure that all our websites are built with the latest web technologies, are mobile responsive, and optimized for search engines. This ensures that your website is accessible to all devices and that it will rank well in search engine results.
Our web design services include
Custom Web Design & Development
We create a unique and visually stunning design that reflects your brand and appeals to your target audience.
Responsive design
We ensure that your website looks great on all devices, including desktop, tablet, and mobile.
E-commerce Solutions
We specialise in creating online stores that are easy to use and optimised for conversions.
Search Engine Optimization (SEO)
Digital Marketing
We offer a range of digital marketing services, including SEO, PPC, and social media marketing, to help drive more traffic and conversions to your website.
Website Maintenance & Support