Omni-channel marketing for a
Travel Agency
Travel Planner, a travel agency with over 50 million in packages sold and over 30.000 tourists
sent annually, has taken it to the next level with epoint.
Travel Planner enhances the experience of over 2M people through omnichannel communication, automation and hyper-personalization. A significant portion of their revenue is due to Marketos' exceptional service.
Travel Planner is the travel agency with the most real reviews in Romania. It has over 24,085 impressions and customer ratings of 9.59 out of 10. For those who have a website, it is known how hard it is to get a few reviews, now think about how to get over 24,000 reviews.
The company operates https://www.travelplanner.ro, one of the largest travel sites in Romania, with over 350,000 unique visitors per month.
The company operates https://www.travelplanner.ro, one of the largest travel sites in Romania, with over 350,000 unique visitors per month.

The company operates with the core belief of being a travel agency that "efficiently and safely organizes holidays at an affordable price". As such, Travel Planner, not only serves the community through its products, but also educates society through various informational articles about locations, hotels, amenities, comparative articles, as well as answering the many, many travel-related questions. Travel Planner's blog has swelled to over 200 articles in the last 12 months alone.
Website optimization and conversion rate improvement.
Improve retention through email automation, database segmentation, and hyper-personalisation.
PPC channel performance improvements (Google and Meta – Facebook and Instagram). Improve engagement and increase the number of followers.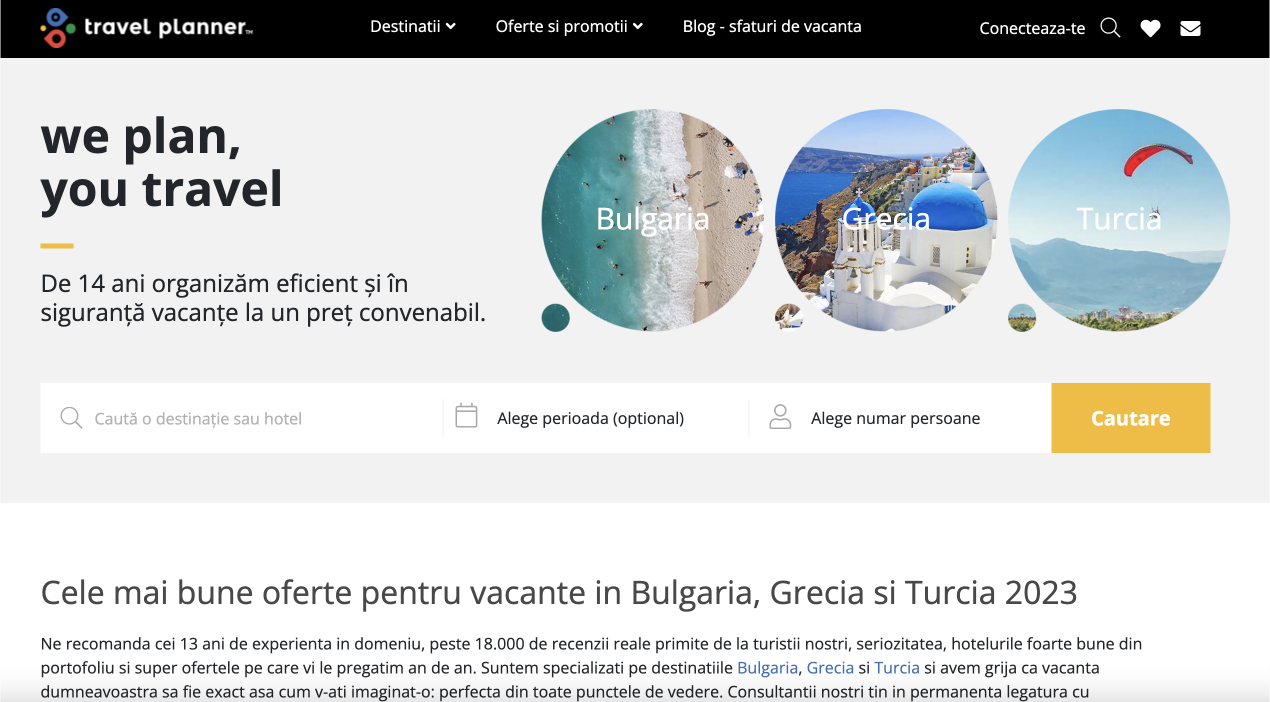 Objectives and Goals
Here are some of the goals and targets we defined at the beginning of the collaboration with travel planner.
Magento is our proficiency and problem-solving is our passion and we perform together as a team to attain your ecommerce business needs. Our skilled and Magento certified developers offer outstanding magento development services to produce an all-inclusive magento ecommerce store.
CRO
Increase by at least 20% the conversion rate on the site and increase by at least 20% the time spent on the site.
revenue
Increase email marketing revenue by at least 100% over the next 12 months.
PAID Channel
Increase PPC sales by at least 50% over the next 12 months.
What they say about us


A successful holiday starts with the choice of a travel agency. For 15 years we have been organizing holidays efficiently and safely at an affordable price.
We specialize in screened and checked destinations We are proud to be among the few companies that focus on customer satisfaction.
We channel our efforts toward quality service and customer satisfaction.
Segmentation, personalization, communication automation and Omnichannel Marketing give us the edge we need to exceed visitor expectations and achieve great results.
Sebastian Constantinescu
CEO, Travel Planner
Call us TODAY to start your
digital project!